Keeping Destructive Rodents Out Of Your Idaho Falls Home
Rodents in Idaho Falls may be small, but their destructive powers far outweigh their size. When they get into your house, they chew through wires, walls, insulation, pipes, and your belongings. They leave urine and feces wherever they go, contaminating surfaces, food, and food prep areas. Before you know what hit you, a rodent infestation will wreak havoc on your life, your health, and your home.
Unfortunately, rodent infestations are one of the most common pest infestations to occur in Idaho Falls. They often move inside in the fall or winter to escape the cold winters and lack of outdoor food sources. If a rodent gets into your house, you can be certain that more will soon follow, so taking immediate action is necessary to avoid all of the problems that occur because of a rodent infestation. Falls Pest Services provides the Idaho Falls pest control services you need to help you get rid of the rodents in your house.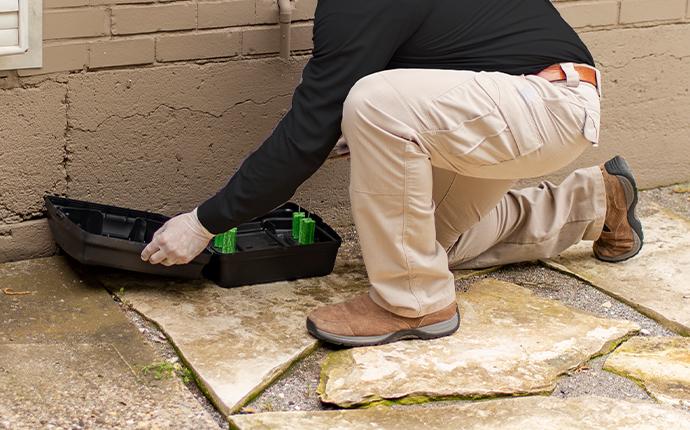 Our Rodent Control Process
Inspection
Starting outside on your property, we'll look around your house for entry points. Mice can fit through holes the size of a dime, so it doesn't take a large opening for rodents to find their way indoors. We'll also check vents and gas lines into your house, as they can often use these areas to gain access to the interior of your house.
We'll then inspect the interior of your house. We'll talk to you to find out what you've been experiencing, we'll look for entry points, and we'll check for conducive conditions. Once we've completed our inspection, we'll discuss our findings with you, explaining how the rodents are getting inside and the things you can do to avoid attracting them.
Treatment
Once we know where rodents are spending time in your house, we can provide the treatments necessary to eliminate them. We use a combination of bait stations and traps to fully eliminate your rodent infestation.
We also offer exclusion services. Although removing the rodents from your house will offer a temporary reprieve from the problems they cause, if you don't seal up the areas they use to get inside, you will soon have a new rodent infestation to deal with.
Using wire mesh and steel wool, we will seal the small holes around your house that rodents are using to get into your house. We can also block off vents and gas lines without compromising air flow so that they can't get inside through these areas either.
Follow-Up
Our rodent control service comes with a 30-day warranty. If you find rodents still in your house up to 30 days after we complete our treatment, we'll return to take care of it.
Don't Let Rodents Damage Your House
A rodent infestation in your house is a serious cause for concern. They will damage your home and can sicken your family. Protect your home and your family with the help of Falls Pest Services. Our rodent control services in Idaho Falls get to the root of the problem by not only getting rid of the rodents in your house, but also blocking their access in order to prevent future infestations. Contact us today to request a rodent inspection.
Learn more about our home pest control and commercial pest control services.
Request Your Quote
Complete the form below to request your quote from Falls Pest Services.