Have Bed Bugs Moved Into Your Idaho Falls Home?
Dealing with a pest infestation of any kind can be a frustrating and stressful experience, but some pests cause more of these negative emotions than others. Bed bugs in Idaho Falls are one example. It's not just their reputation that makes them one of the most feared pests, but also the somewhat creepy fact that they usually bite you while you sleep.
Bed bugs are a problem all over the United States, and Idaho Falls is no exception. If you've been noticing signs of a bed bug infestation in your house, don't wait to take action in the hope that you're mistaken or that it will go away on its own. Instead, contact Falls Pest Services. We have the experience to identify if you have an active bed bug infestation, and we offer bed bug control services in Idaho Falls to fully eradicate the infestation if it is present.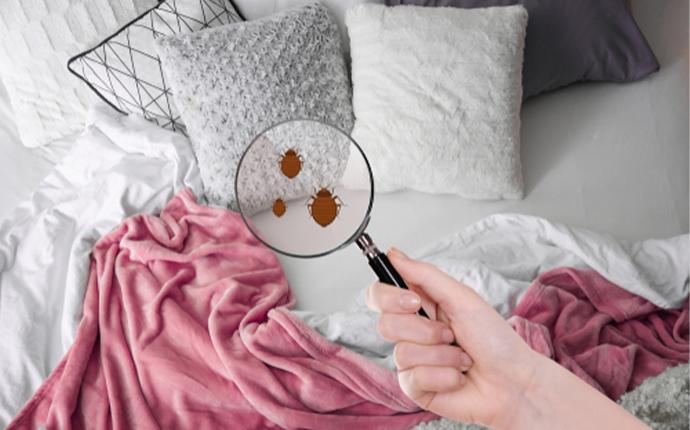 Our Bed Bug Control Process
Inspection
Bed bugs are good at hiding, but they leave behind telltale signs of their presence when they get into your house. To determine if bed bugs have invaded your home, we'll need to perform a thorough inspection of your house. Our pest professionals in Idaho Falls are trained in where to look and what to look for in order to identify the bed bugs in your home.
We'll check every room for the following signs:
Active bed bugs
Blood spots
Bed bug casings
Fecal spots
We check in all the areas where bed bugs are most likely to hide. These areas include:
The seams of mattresses, couches, and other upholstered furniture
Along baseboards and trim
The cracks of furniture
Behind wall outlets
Treatment
If we find that bed bugs are active in your house, it is recommended a bed bug treatment be performed. Bed bug infestations do not go away on their own. Instead, they grow worse over time as their population grows.
Falls Pest Services performs bed bug heat treatments. These treatments are extremely effective against bed bugs, eliminating them in all developmental stages, including eggs, larvae, and adults.
To perform a heat treatment, we'll bring heaters into your house in order to bring your home up to a temperature that is lethal to bed bugs. Once we reach the temperature, we'll hold it there for several hours, ensuring that it gets deep within walls and other cracks and crevices where bed bugs may be hiding. We'll then remove the heaters and let your house cool.
You must leave your house for the duration of the heat treatment. We'll provide you with all the information you need about your heat treatment, including the prep work you need to do before the treatment.
In some instances, we'll apply a liquid product after we perform the heat treatment. This product may be necessary for a large infestation or in a few other instances, which we'll discuss with you after our inspection.
Follow-Up
Our bed bug control service includes a six-month warranty. If you find bed bugs in your house in the six months following our treatment, we'll return to your home to re-treat, free of charge.
Helping You Sleep Soundly At Night
A bed bug infestation can keep you up at night, but with Falls Pest Services, you can get back to sleeping soundly. We design our bed bug control services to completely eliminate your infestation in just one treatment, and they are backed by our six-month warranty, so you won't have to worry about the infestation returning. Contact us today to request a quote for our services.
Learn more about our home pest control and commercial pest control solutions.
Request Your Quote
Complete the form below to request your quote from Falls Pest Services.