Professional Pest Management For Jackson Hole, WY Properties
With an incredible location in the center of Jackson Hole valley, there's nothing keeping its residents from having a fun time in Jackson Hole. This town boasts three ski areas, several restaurants and shops, and various national parks, including the vast and famous Yellowstone National Park.

While this town seems idyllic, it's also a haven for a wide range of pests, making it crucial to invest in ongoing pest control in Jackson Hole. Our team at Falls Pest Services works hard to provide comprehensive pest solutions while remaining affordable, ensuring you receive nothing less than the results possible.

Are you ready to experience unmatched pest control? Reach out to Falls Pest Services today for Teton County pest control you can count on without exception! We'll have you pest-free in no time!
Residential Pest Control In Jackson Hole
Staying pest-free in your own home can feel like a full-time job. Unfortunately, despite the importance of preventing property damage or disease transmission, you don't have the time needed to be effective in keeping the pests away. That's why you need residential pest control.

Our company is locally owned and we boast a team that is fully licensed and insured, so you can count on us to get the job done right the first time. Without exception, we always begin with a property inspection to identify pests, entry points, and hot spots.

After the inspection, we'll work on a customized treatment plan to effectively eliminate your pest problems for good. After treatment, we recommend taking advantage of our follow-up services to remain pest-free.

Don't let your home suffer from invasive pests a moment longer. Reach out to Falls Pest Services today to explore your residential pest control needs and become pest-free in no time!
Secret To Keeping Spiders Out Of Your Jackson Hole Home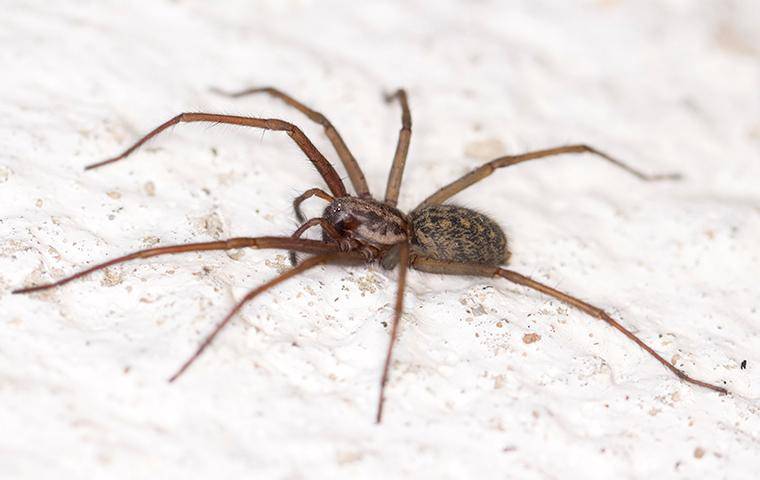 Spiders are creepy and have a fearsome reputation. There's no getting around that, especially considering how often they're feature in creepy crawler movies. The good news is that most types of spiders are harmless to humans. However, that doesn't mean they belong inside your Jackson Hole home. Some ways to keep spiders out of your home include but aren't limited to:
Don't leave food out on the counter or on the floor

Keep all food sources in airtight containers

Eliminate clutter and debris from all rooms, including basements and attics

Seal all entry points like holes and cracks

Take out the trash

Use trashcans with sealed lids

Wipe down webs as you discover them
By following these tips and staying on the lookout for insects, which are a spider's prey, you can reasonably expect to keep the spider population down in your home. For extremely heavy spider infestations, the best solution is to invest in spider control services from trained professionals.

Are you ready to live spider-free without exception? Contact the team at Falls Pest Services today to explore your spider control options and enjoy spider-free living!
How To Get Rid Of Cockroaches In Your Jackson Hole Home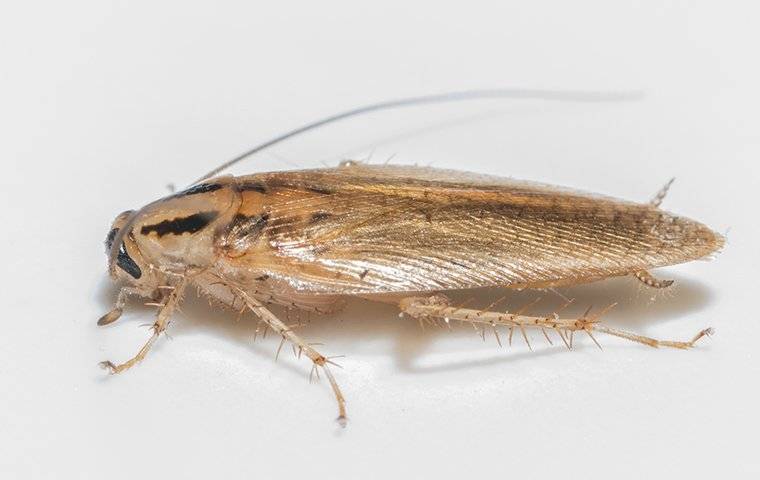 Cockroaches are unsanitary and don't belong in your Jackson Hole home for even a minute. Not only do roaches carry bacteria and pathogens, but they're also responsible for transmitting diseases and triggering asthmatic reactions. Fortunately, there are ways to encourage roaches to get out, such as:
Keep all food in airtight containers or in the fridge.

Wipe down the counters and sweep the floors free of crumbs and spills.

Dispose of trash regularly and use trashcans with sealed lids.

Keep pet food in sealed containers with lids.

Seal all entry points, including holes, crevices, and cracks.

Use door sweeps.

Dehumidify poorly ventilated rooms.
If you're already facing a heavy cockroach infestation, the best way to get rid of them is with professional cockroach control services from Falls Pest Services! Contact us today to explore your options and say goodbye to cockroaches in no time!
Commercial Pest Control In Jackson Hole
The last thing your place of business needs is a large pest infestation. Unfortunately, pests multiply quickly, taking a relatively small issue and turning it into a big problem seemingly overnight. You can't afford problems like bad reviews and sick employees, which is why commercial pest control is your perfect solution.

Our team is trained and equipped to work with a wide range of business types, from restaurants to banks and doctor's offices. In addition, we are fully licensed and insured to deliver customized pest solutions you can count on to get back to business as usual. No matter the pest problems you face, we have you covered so you can focus on your customers.

Take back control of your business by working with Falls Pest Services! Contact us today to explore your commercial pest control options and take the first step toward becoming pest-free!
Eliminating Bed Bugs: Solutions For Jackson Hole Homeowners
Bed bugs are a nightmare for homeowners in Jackson Hole, causing sleepless nights and discomfort. If you suspect a bed bug infestation, it's essential to take immediate action. At Falls Pest Services, we offer comprehensive bed bug control solutions tailored to the unique needs of Jackson Hole homeowners.
Our process begins with a thorough inspection of every room in your home. Our experienced technicians meticulously search for signs of bed bugs, including live bugs, blood spots, and bed bug casings. We pay close attention to seams of couches and beds, furniture, wall outlets, and other potential hiding spots.
Once the inspection is complete, we proceed with the appropriate treatment method. For effective bed bug control, we offer heat treatment followed by a liquid application if necessary. Our heat treatment method utilizes specialized equipment to raise the temperature in infested areas, eliminating bed bugs at all life stages. This approach ensures comprehensive eradication and provides long-lasting results.
To give you peace of mind, our bed bug control service in Jackson Holecomes with a six-month warranty. We stand behind the effectiveness of our treatments and are committed to delivering exceptional service to our valued Jackson Hole clients.
The Potential Dangers Of A Mosquito Bite In Jackson Hole
In Jackson Hole, mosquitoes are not just a nuisance. They pose a significant health risk due to the diseases they can transmit, including West Nile virus, Zika virus, and La Crosse encephalitis. Protecting yourself and your loved ones from mosquito bites is crucial to prevent potential health complications. At Falls Pest Services, we offer reliable mosquito control solutions to safeguard your family in Jackson Hole.
Our monthly mosquito control service, available from April to September, focuses on treating all outdoor areas using a backpack fogger. This specialized equipment allows us to effectively target mosquito populations in residential properties, as well as businesses like boat clubs and outdoor venues.
In addition to professional treatments, we emphasize the importance of eliminating standing water sources. Mosquitoes breed in stagnant water, so removing any accessible standing water around your property is crucial in reducing their populations. Our technicians can provide recommendations on how to identify and eliminate potential breeding sites.
For special events such as weddings or birthday parties, we also offer mosquito control treatments to ensure your guests can enjoy the celebration without the annoyance of mosquito bites. At Falls Pest Services, we are dedicated to providing comprehensive mosquito control solutions tailored to the unique needs of Jackson Hole residents. Contact us today to learn more about our mosquito control services in Jackson Hole.
Why DIY Rodent Control In Jackson Hole Is A Waste Of Time And Money
Did you know rodents can spread a variety of harmful diseases to humans, including hantavirus and salmonellosis? What's more, these pests are tricky to eliminate completely. Dealing with rodent infestations in Jackson Hole requires professional expertise to ensure effective removal and prevention. While do-it-yourself approaches may seem tempting, they often prove to be a waste of time and money. At Falls Pest Services, we offer comprehensive rodent control solutions to address these pesky invaders in Jackson Hole homes.
Our approach includes strategic placement of bait stations and traps on the interior, such as glue boards and snap traps, to capture rodents effectively. However, simply trapping rodents is not enough. We also provide exclusion services, sealing off entry points that rodents use to access your home. Our experienced technicians use wire mesh, steel wool, and other materials to block off small holes and prevent future infestations without compromising air flow or safety.
Choosing professional rodent control not only ensures more successful results but also saves you from the frustration and potential hazards of ineffective DIY methods. To give you peace of mind, we offer a 30-day warranty on our one-time rodent control service, demonstrating our commitment to customer satisfaction. Contact Falls Pest Services to learn more about our options for rodent control in Jackson Hole.
Ant Prevention Tips: Keep Your Home In Jackson Hole Ant-Free
Ants are a common nuisance for homeowners in Jackson Hole, invading kitchens, pantries, and outdoor spaces. To keep your home ant-free in Jackson Hole, follow these valuable ant prevention tips:
Maintain cleanliness: Clean up spills promptly, wipe down countertops, and store food in tightly sealed containers. Empty trash cans regularly and keep outdoor garbage bins covered.
Seal entry points: Identify and seal cracks, crevices, and gaps along windows, doors, and foundation walls. Repair damaged screens and gaps in weatherstripping.
Remove food and water sources: Keep pet bowls clean, store pet food securely, and fix any leaky pipes or faucets.
Seek professional intervention: If you have persistent ant problems, seek professional assistance. At Falls Pest Services, our experts can identify ant species, locate nests, and provide targeted treatments for effective ant control.
Take action today and contact Falls Pest Services to request a free estimate for ant control in Jackson Hole. Our team is ready to assist you in safeguarding your home from ants and other pests to provide you with the peace of mind you deserve. Embrace a pest-free living environment with Falls Pest Services by your side.
Request Your Quote
Complete the form below to request your quote from Falls Pest Services.